1.High Performance
Optimal design of chamber type, together with reasonable combination of speed and stroke make the crusher work more under same dynamic cone diameter. It shows high performance, manufacturing capacity with high reliability and easy-maintenance and low cost.
2.Good Stability
If there is any metal or other non-broken material comes into the crushing chamber, metal passing protection device can release it quickly and the discharge gate resets automatically.
3.Convenient Cleaning-up
The hydraulic cleaning system can clean up the crushing chamber quickly under the load condition in case to decrease the downtime.
4.High reliability
The adoption of big diameter main shaft, heavy mainframe and automatic control of independent oil lubrication system ensure its durability and reliability.
5.Convenient maintenance and easy operation
Under high impact and vibration environment, bronze sliding bearing can keep excellent load performance. It is much more economic and easier for maintenance than the rolling bearing.
6.Double oil passages lubrication and separate oil lubrication system can guarantee dual protection to the lubrication bearings and the safety of the whole crusher.
7.Convenient adjustment of discharge opening
Discharge opening adjustment with hydraulic drive cylinder can reduce consumption.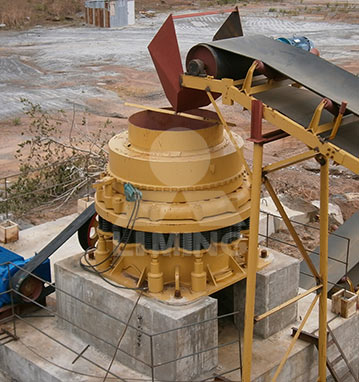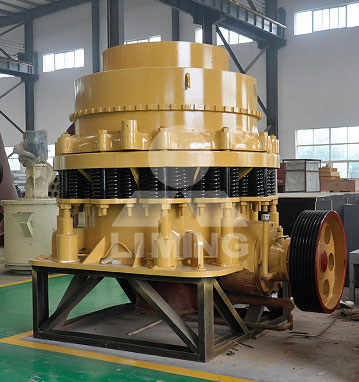 Overview
According to customers 'requirement, our company designs high-performance crusher, CS Series High-efficiency Spring Cone Crusher. This crusher concentrates on the specialty of high-frequency, optimization of cavity-type, reasonable stroke and bases on the advanced technology introduced abroad, follows the conception of laminated crushing principle, more crushing and less grinding.
CS Series cone crusher is widely used to crush metalliferous minerals and non-metalliferous minerals, cement, construction aggregate and sand. For example, iron ore, granite, silica sand, river stone etc.
Working Principle
Through the v-belts, pulley, transmission shaft, pinion and the bevel gear, the power will be transmitted from the electrical motor to the eccentric bushing. Thus the eccentric bushing begins to rotate, which will generate the friction force to drive the main shaft rotating and wigging. Therefore, part of the mantle approaches the bowl liner to crush the material, while the other part of the mantle is a little bit far from the bowl liner, between which the crushed products of required size will be discharged from the lower part after repeating crushing, extruding and bending.
Specifications
Model
Dia. mm (feet)
Cavity
Feed Opening
Outlet Setting (mm)
Shaft Speed (r/min)
Power (kw)
Capacity (t/h)
Weight (t)
Dimension (mm)
Closing Side (mm)
Open Side (mm)
CSB75
900 (3')
Fine
83
102
9-22
580
75(100)
45-91
12.2
2821×1880×2164
Coarse
159
175
13-38
59-163
CSB160
1295 (4 1/4')
Fine
109
137
13-31
485
185(250)
109-181
23.8
2800×2342×2668
Medium
188
210
16-31
132-253
Coarse
216
241
19-51
172-349
CSB240
1650 (5 1/2')
Fine
188
209
16-38
485
240(320)
181-327
55
3911×2870×3771
Medium
213
241
22-51
258-417
Coarse
241
268
25-64
299-635
Model
Dia. mm (feet)
Cavity
Feed Opening
Outlet Setting (mm)
Shaft Speed (r/min)
Power (kw)
Capacity (t/hour)
Weight (t)
Dimension (mm)
Closing Side (mm)
Open Side (mm)
CSD75
914 (3')
Fine
13
41
3-13
580
75(100)
27-90
12.2
2821×1880×2410
Coarse
33
60
3-16
27-100
CSD160
1295 (4 1/4')
Fine
29
64
3-16
485
160(220)
36-163
23.8
2800×2342×2668
Medium
54
89
6-16
82-163
Coarse
70
105
10-25
109-227
CSD240
1676 (5 1/2')
Fine
35
70
5-13
485
240(320)
90-209
55
3917×2870×3771
Medium
54
89
6-19
136-281
Coarse
98
133
10-25
190-336