1.Simple structure and low operating cost.
2.High crushing ratio with low consumption.
3.Function of fine crushing andcoarse grinding.
4.Slightly influenced by moisture content of material, and the max moisture content is about 8%.
5.More suitable for crushing medium hardness and high hardness materials.
6.Cubic shape of final products, high density of piling up and low iron pollution.
7. Less wearing of liner for impeller and easier maintenance.
8. Low working noise (lower than 75 decibel) and low dust pollution.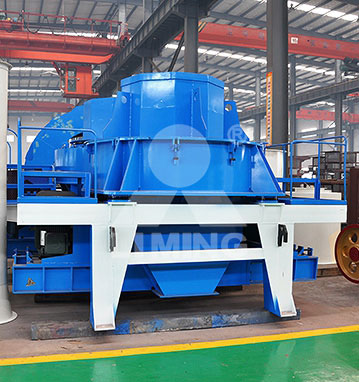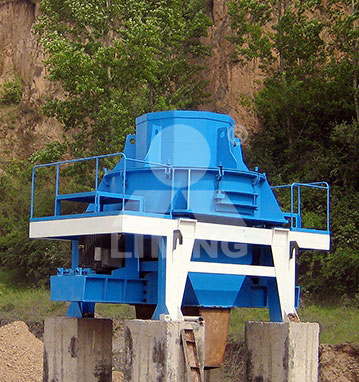 Overview
PCL sand making machine is also called as PCL vertical shaft impact crusher, which is designed by our engineer, depending on years of hard work and study of mechanical mining equipment. It absorbs the advanced technology of the same products form Barmac Company of America, and it is of international level.
PCL sand making machine plays an important role in fine crushing. It is applicable to crushing and shaping for soft or medium-hard or extremely-hard materials and is widely used in all kinds of minerals, cement, refractory material, carborundum grain, glass raw material, construction sand, stone stock and all kinds of metallurgy slag.
Working Principle
Raw materials directly enter the high speed impeller from the top of the machine. With function of large centrifugal force, these materials impacts with the other materials falling around the rotor. Then they will impact with other materials inside the crushing chamber between impeller and frame, and finally being crushed.
Specifications
| | | | | | | |
| --- | --- | --- | --- | --- | --- | --- |
| Model | Rotate speed of impeller (r/min) | Max feed size (mm) | Power (kW) | Weight (including motor) (t) | Capacity (t/h) | Overall dimensions (mm) |
| PCL-600 | 2000-2600 | 30 | 2×30 | 5.6 | 10-30 | 2800×1550×2030 |
| PCL-750 | 1600-2100 | 35 | 2×45 | 7.5 | 30-50 | 3300×1800×2440 |
| PCL-900 | 1300-1700 | 40 | 2×55 | 12 | 50-80 | 3750×2120×2660 |
| PCL-1050 | 1100-1450 | 45 | 2×110 | 16 | 70-120 | 4480×2450×2906 |
| PCL-1250 | 950-1200 | 45 | 2×132 | 22 | 80-150 | 4563×2650×3176 |
| PCL-1350 | 900-1200 | 50 | 2×160 | 26 | 120-200 | 5340×2940×3650 |