1.The whole plant is a vertical structure, so it occupies small area. From crushing of raw material to grinding and packing, it is an independent production system.
2.Compared with other milling plants, its passing ratio achieves 99%, this is what other mill can not reach.
3.Transmission device of main frame adopts airtight gearbox and pulley, which drives smoothly and operates reliably.
4.The techniques is so subtly that ensures the durability of whole plant.
5.The electric control system is centralized controlled, so the automaticity is high.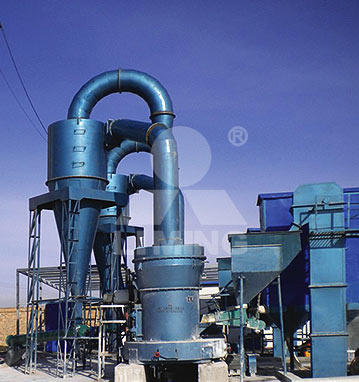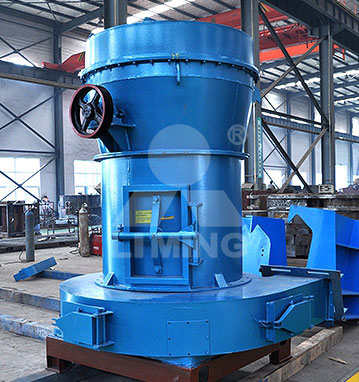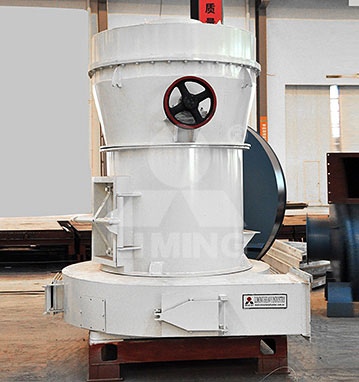 Overview
Raymond Mill is mainly used for non-flammable and non-explosive materials with Mohs' hardness less than 7 and humidity less than 6% such as barite, calcite, marble, ceramics and glass. The final products' s size ranges from 613μm to 44μm, which meets customers' different requirements. Raymond Mill is widely used in metallurgy, construction, chemical, mining machinery, etc. industries.
Working Principle
Firstly, raw crusher is crushed by jaw crusher to the size satisfied, and then elevated into a hopper, from where the material is transported by the electro-magnetic vibrating feeder, evenly and continuously into the grinding chamber for grinding. Materials are sent to the space between roller and ring by shovel for grinding. The milled powder is sent to separator by air.
Fine powders satisfied enters cyclone collector and discharged as final products. The air goes back to blower from upper part of cyclone collector. Coarse powders will be sent back for regrinding. The system is sealed and cycled under positive and negative pressure.
Specifications
Model
3R2115
3R2615
3R2715
3R3016
4R3216
Roller
Number
3
3
3
3
4
Diameter (mm)
210
260
270
300
320
Height (mm)
150
150
150
160
160
Ring
Inside diameter (mm)
630
780
830
880
970
Height (mm)
150
150
150
160
160
Maximum feed size (mm)
15
15-20
15-20
15-20
20-25
Output size (mm)
0.044-0.165
0.044-0.165
0.044-0.165
0.044-0.165
0.044-0.165
Power of main frame (kW)
15
18.5
22
30
37
Fineness of final product (mm)
0.165
capacity (t/h)
1.2-1.8
1.8-2.5
2.3-2.8
2.6-3.2
3.2-4.5
0.075
0.6-1.2
1.2-1.8
1.8-2.3
1.9-2.6
2.4-3.1
0.044
0.6-1.0
0.8-1.2
0.9-1.7
1-1.9
1.8-2.5