1.High capacity. Optimization of the jaw cavity and trajectory, optimum engagement angle and stroke characteristic values, in the same power boost production.
2.Good stability. By the optimization of the whole structure and the counterweight section to determine the structure of flywheel and driving wheel and the weight of counterweight section, so its function of vibration has been greatly improved. Compared with the same unit jaw crusher, HJ series possess a greater stability.
3.High reliability. Heat-treated forged eccentric shaft, extra large bearings, "E"frame, labyrinth seals, etc, making equipment sturdy and durable, more reliable.
4.Easy to operate and convenient to maintain. Advanced side fender bolt system makes the replacing of the side shield more faster; reasonable machine structure makes it more convenient for discharge setting and replacement of toggle plate. All this can effectively shorten the operation and maintenance time.
5.Wide application. HJ series jaw crusher has a compact structure, compared with the same unit jaw crusher, it possess a smaller footprint. So that it can play a greater role in the limited space to suit a variety of crushing process.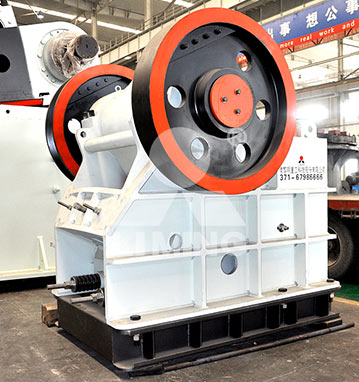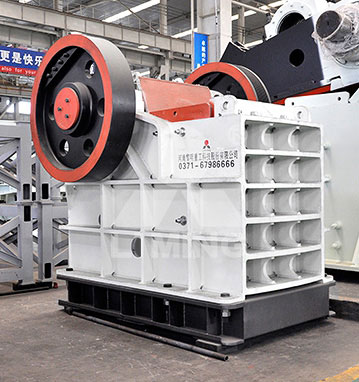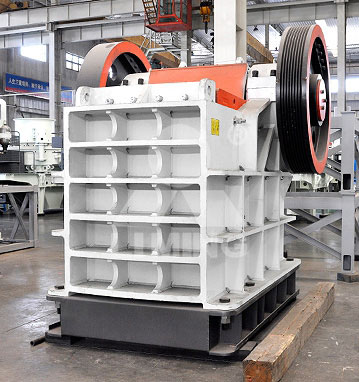 Overview
Jaw Crushers are often used as the primary crusher of crushing process. HJ series high efficiency jaw crusher is a new modern generation crusher designed by Liming, based on jaw crusher and combined with the design concept of high input-high output, integrating the characteristics of low power-high productivity. It is widely used to crush various large stones, limestone, granite, basalt, river gravel, etc. any type of material. HJ jaw crusher has been proven to be reliable and productive in thousands of real mining, quarrying, recycling and industrial applications. It has won the trust of customers all over the world.
Working Principle
HJ series high efficiency jaw crusher is composed by the parts of frame, rotor, insurance device and adjusting device of discharging opening. And the supporting parts are lubrication system, and adjusting system. So HJ jaw crusher can work extremely efficiently. Motor drives the wheel by triangular belt, and then drives eccentric shaft to move the moving jaw, when moving jaw moves moving jaw plate to fixed jaw plate, the materials are crushed or chopped. When moving jaw plate that is driven by moving jaw keeps away from fixed jaw plate, the crushed materials are discharged from the discharging opening, which is under the jaw plate. Along with the continuous rotation of motor, the crusher crushes and discharges periodically. The crusher size, weight, feeding dimensions and capacity are all in good balance ensuring reasonable capital investment. This ensures the best total economical feasibility of the primary crushing stage.
Specifications
| | | | |
| --- | --- | --- | --- |
| Model | HJ98 | HJ110 | HJ125 |
| Input opening size (mm) | 650×980 | 800×1100 | 950×1250 |
| Max feeding particle size (mm) | 560 | 660 | 800 |
| Adjustment range of discharging (mm) | 100-200 | 100-200 | 125-225 |
| capacity (t/h) | 170-410 | 215-510 | 306-650 |
| Rotation speed of eccentric shaft (r/min) | 270 | 260 | 230 |
| Motor power (kW) | 90/125 | 110/150 | 132/175 |
| Overall dimension (mm) | 2470×2000×2180 | 2875×2472×2530 | 3320×2600×3120 |
Diagram 2 supporting equipments parameter
| | | | |
| --- | --- | --- | --- |
| Model | HJ98 | HJ110 | HJ125 |
| Electromotor | Y315L1-8 | Y315L2-8 | Y335M1-8 |
| Hydraulic jack | RC-10T | RC-10T | RC-15T |
| Electric cabinet | 90 /110 Kw | 110/132Kw | 132/160Kw |
Diagram 3 capacity data
| | | | |
| --- | --- | --- | --- |
| Model | HJ98 | HJ110 | HJ125 |
| Capacity (t/h) | 170-410 | 215-510 | 306-650 |