1.Large feeding capacity, high screening efficiency. The capacity of F5X Series Vibrating Feeder is 1.5 times larger than traditional vibrating feeder.
2.An effective way of control, a wide range of applications. Adopting a pin structure in the spring support, the plant satisfies the feeding and screening requirements of different materials with the adjusted obliquity from 0° to 15°.
3.Efficient EV Series Vibration Exciter. Adopting the way of thin oil lubrication, the plant can save a quarter fuel consumption of the traditional vibrating feeder's. Besides, the vibration force can be changed adjusting numbers of weights with different EV Series Vibration Exciter from EV1-EV5. At the same time, there are two lubrication systems saving much time on maintenance because of separate structural system.
4.Anti-blocking bar with grand staircase. There are greater possibilities for materials and bars to contact with each other by the bars with grand staircase and high drop, and the screening probability is increased, either. The design of cross section of cam makes stratification between large grained and granule, and it can reduce friction between materials and bars. Besides, because of the sieve pore with a shape of comb-finger and bars with high drops, the problem about occlusion can be solved effectively.
5.Stable feed box. As support of the inlet, the rectangular framework is more stable. Side panels and outer panels are strengthened by angle steel which can avoid cracking because of non-uniform stress, so the structure is more compact and the stress is evener.
6.Unique structure of motor cabinet. Adopting rubber spring with the structure of tensioning to eliminate the effects that come from the vibrating of feed box on motor, and it can make the service life of motor and conveyor belt longer and the noise lower.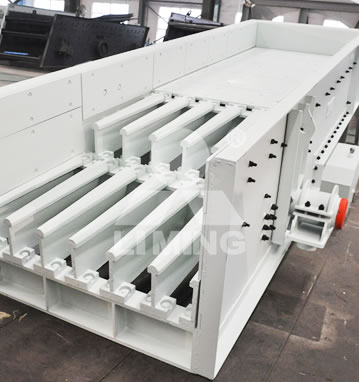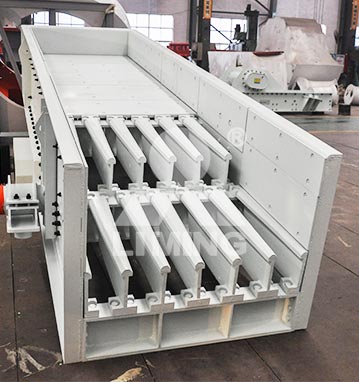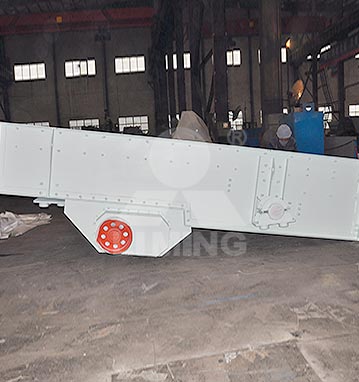 Overview
According to the requirements of customers and rich experiences, F5X Series Vibrating Feeder is produced to feed materials. The plant adopts EV Series Vibration Exciter making amplitude and vibration force adjusted. Meanwhile, the design of Anti-blocking bar with grand staircase has solved the problem about screening probability. Creating higher values for customers, the plant who takes advantages of strong vibration intensity and high screening efficiency satisfy the requirements about stability and reliability.
Working Principle
F5X Series Vibrating Feeder's dual eccentric shaft exciter generates excitation force. A gear pair-connects the two eccentric shafts, enables the shafts rotate to opposite direction with same speed. Through motor driving, the excitation force generated constantly, the material slides and bounces ahead to crusher on the feeder groove. When material go through the feeder's grid bars, the smaller material will fall down through the gap between grid bars and be sent to next crushing process. It enables the feeder to pre-screen material and fully ensures the crushing plant's high crushing efficiency and capability.