1.Adopts automatic control system to control the equipment in an all-round way. Not only can it record the operation status, but also can give an alarm in time when the equipment happens damage. This system simplifies the operation process and reduces the labor cost.
2.The crushing chamber with large inclination angle and the long crushing surface will greatly improve the crushing capacity.
3.Compared with standard beam, the super beam improves the feeding size by 14%, which increases the material throughput accordingly.
4.Hydraulic adjustment method can adjust the main shaft easily and compensate for wear liner. And product size can also be controlled.
5.The main shaft position sensor is convenient for users to monitor the position of the spindle. It can keep the stability of crusher outlet, so that the equipment can run more reliably.
6.Super heavy type frame, large diameter integral shaft assembly and high performance bearings can ensure longer service life and safer operation.
7.Automatic lubrication heating, cooling and circulation system can make equipment maintenance and more convenient.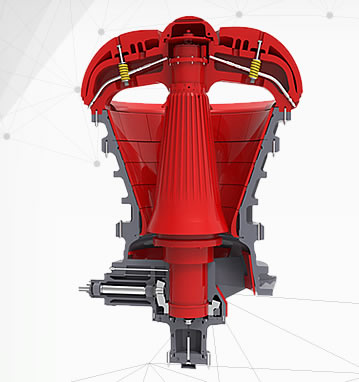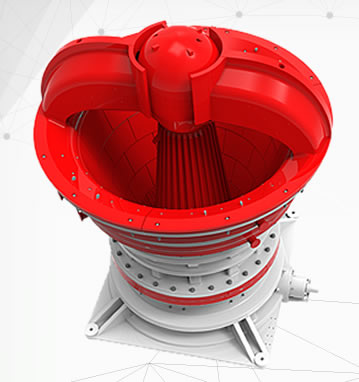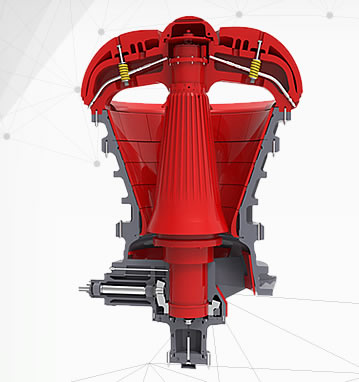 Overview
HGT Hydraulic Gyratory Crusher is a primary crushing equipment with high performance. It takes many advantages of high crushing efficiency, low production cost, convenient maintenance and intelligent operation. As a good machine with flexible application, not only can it be used as a single machine, but also it be used as a host of mobile crusher working on many production sites.
Working Principle
HGT Hydraulic Gyratory Crusher consists of beam, upper frame, middle frame, lower frame, moving cone, eccentric sleeve, transmission part and hydraulic cylinder part. Horizontal shaft driven by motor rotates constantly. Then horizontal axis makes eccentric sleeve rotate by gear, after that eccentric sleeve will drive the moving cone to swing circularly, so as to realize crushing process.

Specifications
| | | | | | |
| --- | --- | --- | --- | --- | --- |
| Model | Inlet size (mm) | Outlet size (mm) | Capacity (t/h) | Power (kW) | Dimensions (mm) |
| HGT 4265 | 1065 | 140-175 | 2015-2875 | 400 | 3940×4170×6900 |
| HGT 5065 | 1270 | 150-175 | 2400-2940 | 400 | 4460×4430×7610 |
| HGT 5475 | 1370 | 150-200 | 2890-3490 | 450 | 4930×4925×8410 |
| HGT 6275 | 1575 | 150-200 | 2895-4335 | 450 | 5580×5250×9090 |
| HGT 6089 | 1525 | 165-230 | 4200-5810 | 630 | 5590×5445×10470 |
| HGT 60110 | 1525 | 175-250 | 5540-8895 | 1250 | 6200×5940×11390 |