1.Cylinder eccentric shaft and eccentric block are adopted to make strong vibrating force.
2.Sieve beam and the box are connected by the high strength bolt.
3.The screen side plate is boiler Steel which has high strength and strong impact resistance.
4.The structure of small amplitude, high frequency, large obliquity makes the screen with high efficiency, large handling capacity, long life span, low compunction, and little noise.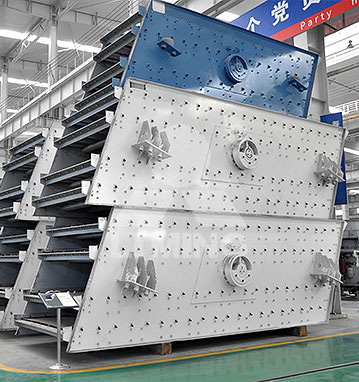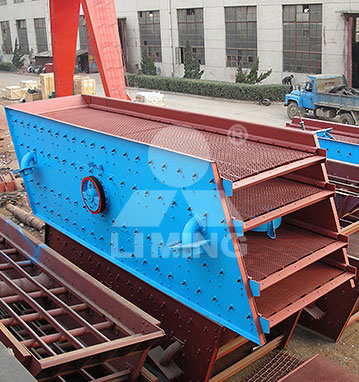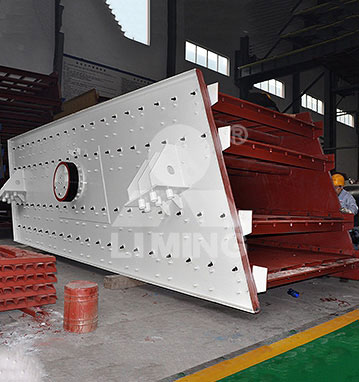 Overview
Circular Vibrating Screen is a multi-deck and high efficiency screen. The Vibrating Screen is worked through with Eccentric shaft, exciter and eccentric block in disciplinarian way in case to separate the Materials, which is widely used in grading in the industries of quarry, building material, chemical industry, etc.
Working Principle
The vibrating screen uses the motor to drive the eccentric shaft to make the screen body periodically along with the direction of vibration force. The materials make circular movement on the screen to realize sieving. Circular vibrating screen consists of vibration source, screen body, screen mesh, shock absorbing device, base frame, etc. It has the features of reasonable structure and long durability.
Specifications
| | | | | | | | | | |
| --- | --- | --- | --- | --- | --- | --- | --- | --- | --- |
| Model | Screen size(mm) | layers | Screen mesh (mm) | Maximum feed size(mm) | Vibrating frequency (rpm) | Capacity(tph) | Power KW(HP) | Dimension (L×W×H) (mm) | Weight (t) |
| 2YZS1237 | 3700X1200 | 2 | 3-80 | 100 | 750-950 | 10-80 | 11(15) | 4570×1900×1200 | 3.1 |
| 3YZS1237 | 3700X1200 | 3 | 3-80 | 100 | 750-950 | 10-80 | 11(15) | 4730×1900×1650 | 3.8 |
| 2YZS1548 | 4800X1500 | 2 | 3-80 | 100 | 750-950 | 30-200 | 15(20) | 5740×2180×1200 | 4.1 |
| 3YZS1548 | 4800X1500 | 3 | 3-80 | 100 | 750-950 | 30-200 | 15(20) | 5910×2180×1650 | 4.8 |
| 2YZS1848 | 4800X1800 | 2 | 3-80 | 100 | 750-950 | 50-250 | 18.5(25) | 5740×2540×1200 | 4.5 |
| 3YZS1848 | 4800X1800 | 3 | 3-80 | 100 | 750-950 | 50-250 | 18.5(25) | 5910×2540×1650 | 5.5 |
| 2YZS1860 | 6000X1800 | 2 | 3-80 | 100 | 750-950 | 60-300 | 22(30) | 6960×2540×1200 | 5.1 |
| 3YZS1860 | 6000X1800 | 3 | 3-80 | 100 | 750-950 | 60-300 | 22(30) | 7130×2540×1650 | 6.2 |
| 4YZS1860 | 6000X1800 | 4 | 3-80 | 100 | 750-950 | 60-300 | 22(30) | 7300×2540×2100 | 7.3 |
| 2YZS2160 | 6000X2100 | 2 | 3-80 | 100 | 750-900 | 80-400 | 22(30) | 7010×2980×1380 | 6.8 |
| 3YZS2160 | 6000X2100 | 3 | 3-80 | 100 | 750-900 | 80-400 | 30(40) | 7160×2980×1780 | 8 |
| 4YZS2160 | 6000X2100 | 4 | 3-80 | 100 | 750-900 | 80-400 | 30(40) | 7370×2980×2240 | 9 |
| 2YZS2460 | 6000X2400 | 2 | 5-80 | 100 | 750-900 | 100-500 | 30(40) | 7010×3280×1380 | 7 |
| 3YZS2460 | 6000X2400 | 3 | 5-80 | 100 | 750-900 | 100-500 | 37(50) | 7160×3280×1780 | 8.5 |
| 4YZS2460 | 6000X2400 | 4 | 5-80 | 100 | 750-900 | 100-500 | 37(50) | 7370×3280×2240 | 10 |
| 2YK3X2675 | 7500X2600 | 2 | 5-150 | 350 | 700-900 | 80-1140 | 45(61) | 8450X3460X1720 | 12.4 |
| 3YK3X2675 | 7500X2600 | 3 | 5-150 | 350 | 700-900 | 80-1140 | 45(61) | 8650X3460X2270 | 15.8 |
| 2YKN3075 | 7500X3000 | 2 | 5-150 | 350 | 700-900 | 100-1300 | 2X37(50) | 8680X4060X1900 | 19.5 |
| 3YKN3075 | 7500X3000 | 3 | 5-150 | 350 | 700-900 | 100-1300 | 2X45(61) | 8910X4060X2525 | 23.5 |