1. Stable working
Connection between motor and vibrator adopts flexible coupling, which makes torque transmission have no axial force transfer and its working more stable.
2. Optimized structure
Using the finite element analysis technology to optimally calculate the screen frame; side plate adopts the overall bending parts, on which welding crack is not easy to produce; through adjusting the eccentric block quantity, vibrator can meet the requirements of different exciting force and different amplitude.
3. Easy maintenance
This vibrating screen series adopts synchronous cog belt structure, which is lighter in weight and easier in maintenance compared with the synchronous gear; vibrator adopts external type eccentric block structure, which is more convenient in installation and teardown than the eccentric shaft vibrator and more easier in maintenance; With the universal joint connection between vibrator, the installation is more flexible.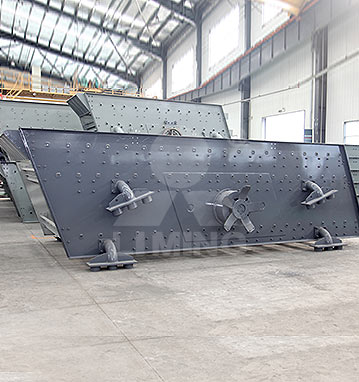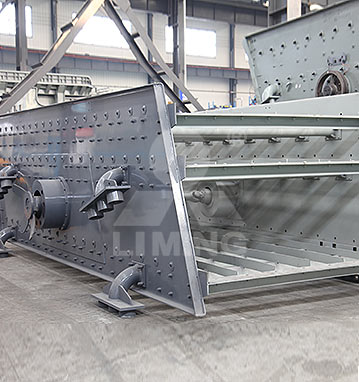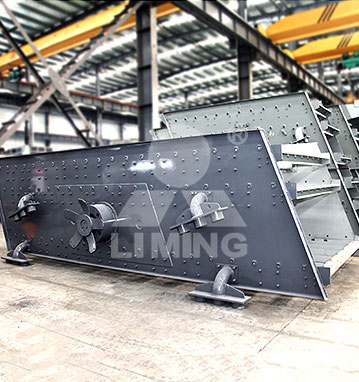 Overview
According to 20 years' experience in design of vibrating screen, the YKN Series Vibrating Screen is produced successfully combined with advanced international technology. The new plant, high strength and large vibration force, used for ores and rocks which have characters of chunk and bulk density in construction, mining machinery, concrete, chemical industry and so on.
Working Principle
YKN series circular vibrating screen is Single-quality system of forced vibration screening equipment composed of the vibration parts with the screen box and exciter, etc. and the spring as elastic component. When working, the motor drives the exciter by the intermediate shaft and the flexible coupling to make the eccentric block of exciter rotating rapidly, and then generate the exciting force, which drives the screen box vibrating continuously. The material makes continuous projectile motion on tilted screen surface along with the screen box. When thrown up, the materials are layered, and in the process of fallen down to contact with the screen surface, the granules are falling through the sieve, the classification process of granule is completed again and again.
Specifications
| | | | | | | | | |
| --- | --- | --- | --- | --- | --- | --- | --- | --- |
| Model | Screen area(m²) | Installation angle(°) | Sieve size(mm) | The Max. Screen size(mm) | Number of vibration(r/min) | double amplitude(mm) | Installed power(kW) | Capacity(t/h) |
| 2YKN1860 | 2x10.8 | 20 | 5~150 | 400 | 800-900 | 5~9 | 22 | 70~400 |
| 3YKN1860 | 3x10.8 | 20 | 5~150 | 400 | 800-900 | 5~9 | 22 | 70~400 |
| 4YKN1860 | 4x10.8 | 20 | 5~150 | 400 | 800-900 | 5~9 | 30 | 70~400 |
| 2YKN2160 | 2x12.6 | 20 | 5~150 | 400 | 800-900 | 7~11 | 30 | 100~600 |
| 3YKN2160 | 3x12.6 | 20 | 5~150 | 400 | 800-900 | 7~11 | 37 | 100~600 |
| 4YKN2160 | 4x12.6 | 20 | 5~150 | 400 | 800-900 | 7~11 | 45 | 100~600 |
| 2YKN2460 | 2x14.4 | 20 | 5~150 | 400 | 800-900 | 7~11 | 30 | 150~850 |
| 3YKN2460 | 3x14.4 | 20 | 5~150 | 400 | 800-900 | 7~11 | 37 | 150~850 |
| 4YKN2460 | 4x14.4 | 20 | 5~150 | 400 | 800-900 | 7~11 | 45 | 150~850 |
| 2YKN3072 | 2x21.6 | 20 | 5~120 | 300 | 700-900 | 7~10 | 2×37 | 200~1200 |
| 3YKN3072 | 3x21.6 | 20 | 5~120 | 300 | 700-900 | 7~10 | 2×37 | 200~1200 |
| 2YKN3672 | 2x25.92 | 20 | 5~120 | 300 | 700-900 | 7~10 | 2×45 | 240~1650 |
| 3YKN3672 | 3x25.92 | 20 | 5~120 | 300 | 700-900 | 7~10 | 2×45 | 240~1650 |
| 2YKN3075 | 2x22.5 | 20 | 5~120 | 300 | 700-900 | 7~10 | 2×37 | 200~1200 |
| 3YKN3075 | 3x22.5 | 20 | 5~120 | 300 | 700-900 | 7~10 | 2×37 | 200~1200 |