Welcome to the 129th Canton Fair !
CANTON FAIR will be held on the 15th-24th, April. The Booth No is : 2.1I37.

As the leading manufacture of the mining stone crusher and grinding mill, Liming Heavy Industry will actively participate in this Fair.

Since the COVID-19 is still uncontrolled throughout the world , we should still pay more attention to our safety , will take all measures to ensure the safety of our customers .

For customers who can not attend to the Fair , they can attend our Fair on the Internet , which will not be restricted by the time and distance . Be free to ask our experts any questions about the machines at the live streaming .our experts are eagerly to show you our machines , be free to ask them any questions related to our machines.
Welcome to the 129th Canton Fair !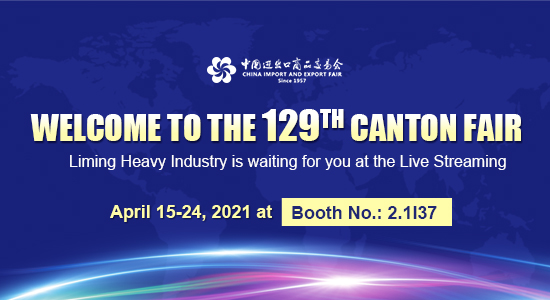 Select model and place orders
Select the model and submit the purchase intention
Get the base price
Manufacturers take the initiative to contact and inform the lowest price
Plant inspection
Expert training guide, regular return visit
Sign the contract
Select the model and submit the purchase intention
Get the minimum offer free of charge, please fill in the following information to tell us (confidential information, not open to the public)